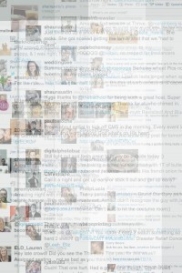 For me, technology brings new meaning to the term (and song) Communication Breakdown.  While I thoroughly enjoy Twitter and Facebook, and I totally see them as this amazing resource, I find my enjoyment of them comes with a price.  Maybe some of you wedding professionals can relate to this.  If I am not on my guard, looking at Twitter or Facebook feeds can send me into an emotional tailspin.  I already feel so much pressure because I am (admittedly) a perfectionist, but Twitter and Facebook can sometimes contribute to an already existing un-healthy way of thinking.  I mean, sometimes I wanna cry.
Having relocated my business to a new market, these things have been amazing tools to connect and get to know a community of professionals in a new place.  However, every now and again (and probably more than I want to admit) I loose my perspective and give into that voice that tells me I have to rely on my own strength to be successful here.  I have to know the right people.  I have to read the right books.  I have to have the latest and greatest tool.  Now I am not talking about working hard and being smart about running your business, I am talking about that voice (that even sometimes comes from Christians) that says you have to always be, have and do the latest and greatest or everyone is going to eat your lunch.
Perhaps they are right.  But I believe that comes from a spirit of fear, not of faith.  Constant Tweets about all the things I should be doing, getting, and learning as a photographer are overwhelming to me.  While some of them may actually be useful, when I find myself entering into a Communication Breakdown (also referred to as emotional tailspin above), I have to remember that though I am called to be wise and diligent, ultimately, God is in control, and any business I have or get comes from Him.