Here is a rather epic blog post with some of my favorites from CMA Fest 2012.  I had so much fun shooting, but I will say I could hardly walk on Sunday.  It was like shooting a 4 day wedding.  Except I walked to the wedding each day from East Nashville.  Keep a lookout for the article I will be writing as a guest blogger for Focus on the 615, who got me the media pass.  And I promise that post will be much more well-written, unlike this one.  Note to self.  Do not write blog posts at midnight.
I especially would like to thank Patrice Majors from Focus on the 615 for thinking of me and allowing me to be a part of their media coverage!  It was quite an experience!
TUESDAY
Rodney Atkins, Josh Thompson, Jana Kramer at the "Country Gives Back" press conference in support of the American Red Cross…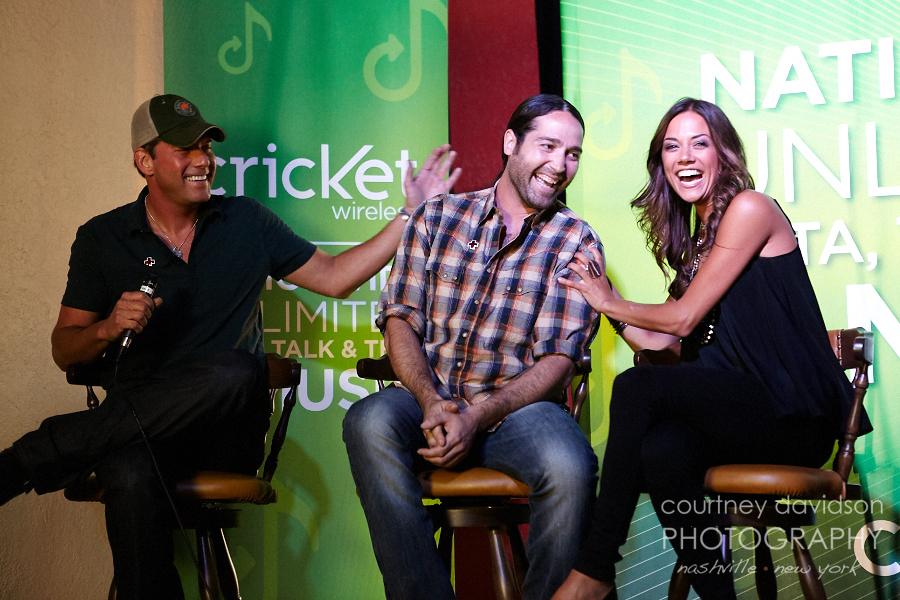 THURSDAY
Julie Roberts… I was an intern on her photo shoot for "Men and Mascara" back when I lived in NYC and I became a fan.  It was great to see her again!





Neil McCoy totally blew my mind.  I feel like I grew up with some of his songs, but what an amazing performer!  Clearly the "Do Not Climb Truss" sign doesn't apply to him.  He put that sign in his back pocket while he climbed it.



Dustin Lynch



The Peach Pickers… this guy Dallas Davidson has written / co-written so many of the major hits you hear today.  It's amazing.  Plus he has a great last name… 🙂



Miranda Lambert
Jason Aldean






Lady A



Zac Brown Band



Brad Paisley






FRIDAY
Gloriana
David Nail
Ronnie Milsap



Brantley Gilbert



Jake Owen



The Band Perry



Blake Shelton… It was like he was looking right at me….in a sea of cameras (and camera phones)



Carrie Underwood






SATURDAY
I didn't have the pass for the Saturday LP Field shows, so this one was an easier day for me…
Heidi Newfield



James Otto… he had the most ADORABLE little girl, but I won't put that picture online, just out of respect for their privacy.  But I want to, that's how cute this kid is.



Corey Smith



SUNDAY
Sunny Sweeney
Scotty McCreery
Dierks Bentley






Rascal Flatts… I have a better one than this, but I just wanted to show how super close to the stage during this round in the photo pit!






Alan Jackson



Martina McBride closes out the CMA Fest on Sunday